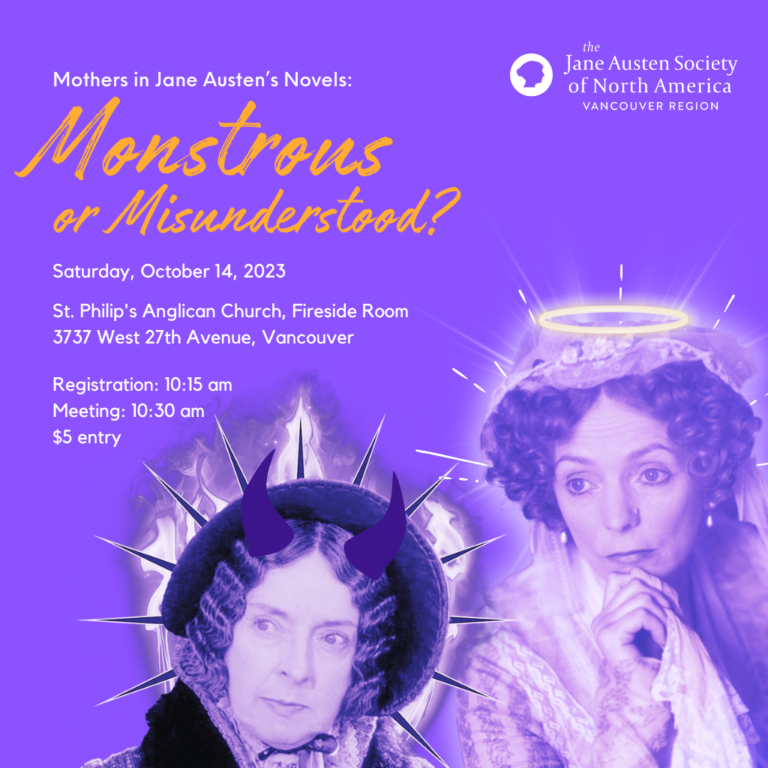 October 14, 2023: Mothers in Jane Austen's Novels: Monstrous or Misunderstood?
Our second meeting of the 2023/2024 JASNA season will be a members' panel discussion. Please contact Robyn Martin to sign up.
In Jane Austen's novels, mothers are often portrayed as ridiculous, frivolous, overbearing, and sometimes even downright monstrous. However, it is important to consider the societal norms and expectations of the time in which Austen was writing. In the late 18th and early 19th centuries, a mother's primary role was to ensure the successful marriage of her daughters, often through strategic matchmaking and social connections. This pressure to secure advantageous marriages for their children could lead to mothers being seen as controlling and manipulative.
That being said, it is also important to recognize the complexity of Austen's characters. While some mothers may exhibit negative traits, they are not one-dimensional villains. For example, Mrs. Bennet in Pride and Prejudice may be seen as annoying and foolish, but she also genuinely cares for her daughters and wants the best for them. Similarly, Lady Bertram in Mansfield Park may be seen as lazy and uninvolved, but she also provides a stable home for her niece Fanny.
Overall, while mothers in Austen's novels may be presented in a negative light, it is important to understand the societal context in which they were written and to view these characters as nuanced individuals rather than caricatures.
Which mothers in Jane Austen's novels do you think are wrongly vilified and why? Pick a mother and fight her case! Alternatively, if you do think a mother is actually monstrous, tell us why she is the monster she is made out to be.
We look forward to seeing you again next Saturday! Remember to bring a finger food for our shared lunch and the meeting fee of $5. Registration is at 10:15 am and the meeting will begin at 10:30 am.
Upcoming Meeting Dates:
October 14, 2023

November 18, 2023
December 9, 2023
Here is a highlight view of some of our safety recommendations for in-person meetings:
Those feeling ill or unwell should remain home.
Please stay at home if you have been sick and wait until you are asymptomatic for several days.
If returning from travel, please be circumspect of attending an in-person meeting within 14 days of returning.
It is optional to wear a face mask while indoors. Wearing masks in public indoor settings is not required.
Proceed to the registration table, and sign in with your name and preferred contact information: phone or email.
Meeting fee is $5, and exact change is appreciated as there is not enough float to make change.
If you have not collected it, you can find the table with your reusable name tag. Then take a seat at one of the tables.
If you need the accessible ramp entrance, please contact jasnavancouverrc@gmail.com to confirm the directions.
Our Books & Berries meeting began with our annual book sale fundraiser. There were so many books donated that you could hardly see the tables …